Often, people will assume that one person alone can't make a change to positively affect the world. This is why we need to stand together to fight to protect and promote human rights. We at ContactsforLess.ca stand firm with Amnesty International.
From the Amnesty International's Website
Amnesty International is a global movement of over 7 million people in more than 150 countries working together to protect and promote human rights.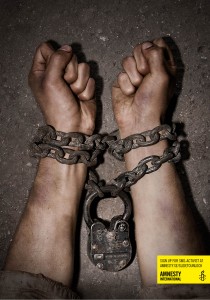 Our vision is
of a world in which every person enjoys all the human rights enshrined in the Universal Declaration of Human Rights and other international human rights instruments.
Our mission is
to conduct research and generate action to prevent and end grave abuses of human rights and to demand justice for those whose rights have been violated.
We believe that we are at our most powerful when we stand together for human rights. Each person, no matter who or where they are, can make change happen by acting in concert with others who share their vision of a world where everyone lives in dignity.
Members are the strength of our organization. It is because so many people speak out for justice that Amnesty International is able to achieve remarkable things.
Amnesty International is an authoritative voice on human rights. For over 50 years, we have provided the world with reliable and accurate information about human rights violations and international human rights laws and standards.
Amnesty International is independent of any government, political ideology, economic interest or religion. We do not accept funding for our human rights research and campaigning work from any government. Our work is supported by donations from individuals.
Amnesty International is impartial. We hold all actors to the same obligations as defined in international human rights law and standards. Our only goal is to ensure human rights are respected for everyone, everywhere.
To connect to the Amnesty International website, please click here.