1 YEAR RETURNS & REPLACEMENT GUARANTEE!
RETURN IF YOU NEED, REPLACE IF THERE IS A PROBLEM
If you accidentally order the wrong thing, or your prescription changes, we will also gladly accept your your return back and refund your money or replace your order with a replacement if your product has gone missing or is defective.
TO CONTACT US ABOUT A REPLACEMENT OF YOUR ORDER, PLEASE CONTACT US AND WE WILL MAKE SURE YOU ARE WELL TAKEN CARE OF.
TO RETURN A PRODUCT FOR A REFUND, PLEASE VISIT OUR PRODUCT RETURN PAGE.
1-YEAR FULL ORDER PROTECTION IF PRODUCT IS LOST, DAMAGED OR STOLE
Our 1-YEAR Replacement and Handling free means that you can return contact lenses to us anytime during the year after your purchase, for your full cash back!* If your order has been lost or damaged, then you can have it replaced right away. Learn more about what to do if your product is LOST OR DAMAGED. See below about our Product Return policies, we are the best at customer service!
To learn more about our small fee that brings with it 100% product protection, please click here.
RETURNS ARE ALSO PROTECTED FOR A FULL YEAR
*In order to process a RETURN, the contact lenses just have to be:
✓ Unopened
✓ Unmarked
✓ Undamaged
(a.k.a. in original condition with sealed packaging)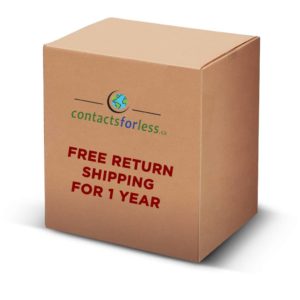 *This does not include:
× Custom order lenses (learn more)
× Opened 90-packs (Even if the boxes inside it are unopened. When the manufacturer printed 'NOT FOR RESALE' on the boxes inside, they meant it for us, too. Sorry, guys.)
× Eye drops, contact lens solution, and contact lens cases. To ensure that the lens care products that we sell you are always sterile and unused, we do not accept returns for these items.
× Partial returns of Air Optix Rainbow Pack (3 x 2pk). This product counts as 1 item, so the return has to include all 3 packs.
Please Note:
Returns of opened boxes, inner boxes from opened 90-packs, custom orders, and lens care products will not be refunded. Moreover, the return shipping for such non-refundable items will be billed to the customer.
HOW TO RETURN YOUR CONTACTS
Fill out this form.
We will email you (at the email address you enter in the form) within 1 – 2 business days the details needed for a free return.
Ship it back to us for free!
We'll let you know when we receive your package. Once we receive it and check that everything is in order, we'll give you a full cash refund!
THINK YOU HAVE A DEFECTIVE CONTACT LENS?