Contactsforless.ca has another great sale for you. Canada, can a contact lens website get any cooler? We don't think so. Use code HOLIDAY20 through December 27th, 2021, and you can save 20% of any contact lens brand we sell.
Buying contact lenses online is simple enough right? But did you know that what we do is very special? Not only does Contactsforless.ca SAVE YOU MORE MONEY on your online purchase, but we also donate profits.
No one does what we do. We donate over half of all net profits to save the planet (like we are saying all over our website). Why do we keep telling you this? Because we believe that you care as much about the planet as we do. We care about kids, families, mental health, the environment, whales, dolphins, clean air, democracy, human rights and more. We believe you care too and that is why many thousands buy their contact lenses online with us.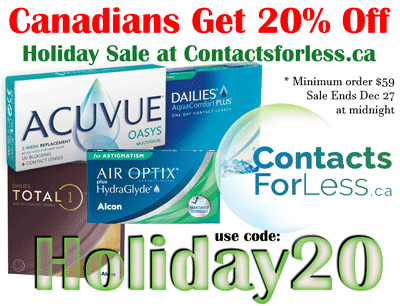 On top of all of that, we are still the top ranked contact lens site in Canada. In fact, there is no online contact lens website that has a higher Google ranking that Contacts for less. When we say "Google ranking", what we mean is an ACTUAL GOOGLE RANKING, not these private, manipulatable review sites that allow companies to play tricks on you. No way! We only publish Google reviews because they are the only ones you can 100% trust.
Click here to read our Google reviews.
So, like said above, we are all about saving the planet too. Want to learn more? Click here to learn more about how we donate profits.
In case you didn't know, we also provide FREE EXPRESS SHIPPING with every order. Yup! No one does it better than we do. Click here to learn more about our free shipping.
Thank you for being our customer and for helping us save the planet, one contact lens at a time.